Most of the time, phones are a source of distraction that tie us to endless scrolling of meaningless content. Therefore, as suggested by Humane Tech and my recent talk, a minimal and distraction free homescreen is the first step towards a more meaningful interaction with your phone.
I'll outline the reasons and benefits for each app.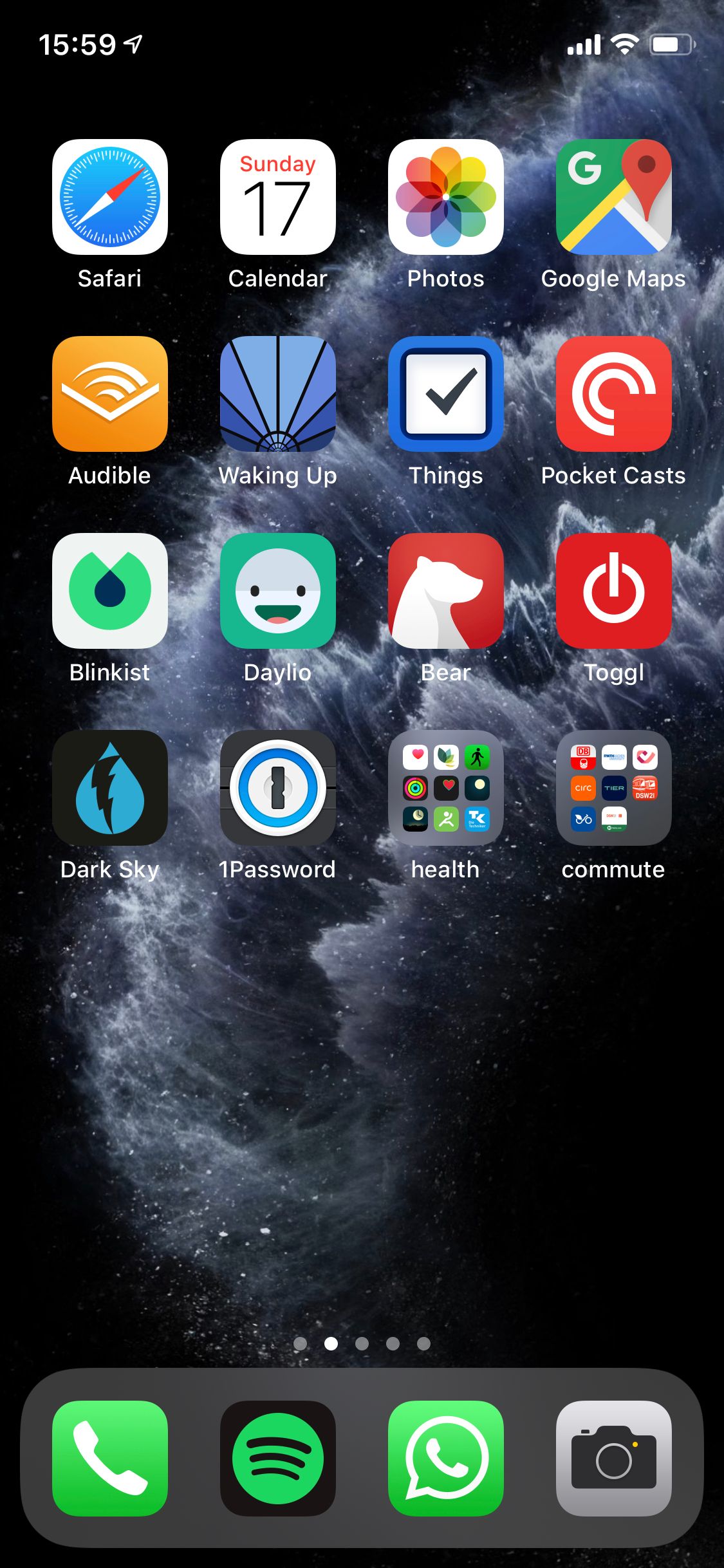 1.  Safari
Well, a web browser - for anything which doesn't run in an app web wrapper yet.
2. Calendar
Using the builtin iOS calendar - minimal and functional.
3. Photos
Well, Photos.
4. Google Maps
Still the best maps application out there and as I'm visiting new cities quite often this is what I use.
For listening to audio books.
I'm not sure yet where to put audio books. Somewhere between reading a book and listening to podcasts.  Podcast usually are conversations where the content is informally presented and the interviewer can intermit, ask questions, steer the conversation, whereas audiobooks are the more formal counterpart with a lot of content, densely accumulated. Therefore I usually go for audibooks when I have more than 30 minutes of undistracted free time, like when I am riding my bike to work for example.
However, I've been only using it for non-fiction which makes the content hard to digest.
Meditation app of Sam Harris. I'm doing the daily meditation in the morning.
Todo-list application. I finally switched from Wunderlist to Things and I love it. I can't imagine any kind of productive life without an organizer like this. The look is minimal and focused while it maintains all the features you need.
My favorite podcatcher app, so far. It supports all major platforms (yes, desktop as well, including sync). I'm using the queue for adding new episodes, some even automatically, and working my way through all of the never-ending content.
For a list of my favorite episode and podcasts check out my shelf.
Blinkist summarizes non-fiction books into 10 'blinks', audioversion included.
I'm using Blinkist to get a glance of some books which might be interesting. As each summary is roughly 10 minutes long it is a great addition for a morning routine, or short break.
My most recent addition - Daylio. A mood tracking app.
I use Daylio to track my mood three times daily (morning, afternoon, evening) and assign corresponding activities, locations, settings and meal types. The idea is to identify (hidden) patterns and keep investing in more healthy activities.
Finding a good notes app was always and still is hard for me. I'm basically just looking for the following features multi-platform, end-to-end encryption and Markdown support - well, that's easy said.
Bear is my newest try, as it supports macOS and iOS, has a beautiful interface and supports Markdown. An encryption feature for single notes is following.
Motivated by time calibration, I started using a time tracker. I'm still in the progress of figuring out how detailed I will use this app.
For the beginning I want to track the hours I spent on certain projects, like university, Effective Altruism, applications and more.
Weather App - not sure yet about the accuracy compared to other data sources.
The Dark Sky Company specializes in weather forecasting and visualization.
I've been using 1Password for a couple of years now, and it is my password manager by choice.
If you're not using a password manager yet, you should start now: Why do I need a password manager?
15. Health Apps
A collection of multiple health related apps. Starting with the builtin health recordings, but also the collection from Tantsissa. This includes AutoSleep, AutoWake and HeartWatch. By far the best sleep tracker I've used yet.
Furthermore for minimal guided and unguided meditation, I sometimes use Oak.
16. Commuting Apps
A collection of apps for the public transport, they do fulfill their function. However, they usually have a terrible UI/UX.
Dock
1. Phone
2. Spotify
Music.
Please don't use it for podcasts. Right now podcasts can be self hosted using open standards. This enables a wide variety of podcatchers and doesn't force you into a system.
3. WhatsApp
4. Camera
Yes most of those apps do cost money and they're worth it. For anybody who ever wrote a single line of code knows the works which can go into a program (if you haven't, give it a try). Furthermore I usually try to avoid free apps, as they either bombard me with ads, sell my private data - or both.
To go one step further turn on greyscale.